Those of us who live in temperate zones are indeed fortunate to have more time to enjoy the late bloomers of fall. Our garden blooms have certainly diminished but those that remain are all the more appreciated. One of those is our Knockout Roses.
Knockout Roses
These patented knock out roses are not strutting their colors quite as prolifically as during the spring, but they are still a delight to see along the garden border and by our subdivision sign. Apart from blooming all season into the fall, what makes Knockout Roses so appealing?
Origin of Knockout Roses
Back in the early 80's a rose-growing aficionado named Bill Radler, began his quest to breed a tough rose. The terms "tough" and "rose" together connote an oxymoron. Roses are supposed to be persnickety, sensitive to diseases, and intolerant of casual maintenance. And yet, they are by far the most popular flower for centuries.
"Of all Flowers, methinks a Rose is best," William Shakespeare.
The Making of a Tough Little Rose
Well, the modern day Bill found that, if he crossed certain varieties, one rose, in particular, seemed to stand up to diseases and actually thrive as a "landscape" rose.
Having proven its worth, this tough rose was dubbed, patented, licensed, and released on the market in 2000 as the "Knock Out Rose" ( scientific name Rosa 'Radrazz'), often also called "Knockout Rose".
The Knock Out Rose started with two varieties "Carefree Beauty" and "Razzle Dazzle". There are now numerous other Knock Out rose varieties, including double flowering types like "Rosa Ratko". 1)https://www.reddinggardener.com/2014/07/16/a-rose-by-the-name-of-knock-out/
The Pampered Rose
As landscapers, our experience with rose plantings prior to the release of the Knock Outs convinced us to avoid planting roses. They just had too many issues related to weather conditions, fertilizing, pests, and diseases, and most of our clients wanted easy care, low maintenance landscapes.
Many roses needed to be routinely pruned and protected from the ravages of winter. And then there are the Rosa rugusa varieties that tended to get very aggressive, sending underground runners in all directions choking out their companion plantings.
We have the rosa rugusa for the rosehips they produce, but they are definitely aggressive growers and are creating more of a briar patch than a hedgerow.
Pleased as Punch with our Knock Out Roses!
It actually wasn't until 2011 that we gave the Knockout roses a try in the landscape. We planted five of them while remodeling the landscape around our subdivision entry sign.
There was no water, right near the road, and we'd only stop by every now and then, so not the best location to monitor plant conditions. But, lo and behold…
Every Knock Out Rose bush we planted has held up and produced an abundance of season-long blooms every year.
We do nip them back during the growth season for flower production and for keeping the sign visible.
Knock Out Roses: A rose by any other name would not be so tough and beautiful!
Growing Knockout Roses
Growing Zones: Hardy from Zones 5 through 9.
Well drained soil with a pH between 6.0 and 6.5.
Deadheading blossoms helpful but not required.
Knockout rose shrub matures at 4 feet.
Full sun to some shade (6 hours minimum).
Not prone to fungal diseases.
Though removing spent blossoms (deadheading) during the growth season helps blooming, the tidy plant does OK with little pruning as it's typical mature size is four feet by four feet. It likes sun (six hours minimum) but will tolerate a bit of shade. 2)http://gardeningsolutions.ifas.ufl.edu/plants/ornamentals/knock-out-roses.html
The trade-offs are very few.
Disadvantages of Knock Out Roses
Blossoms are scarcely scented.
Not great for cut flowers.
Normal susceptibility to pests.
Rose Rosette Virus
Indeed, there are still issues with pests like aphids, Japanese beetles, deer, and such.
So whatever controls are chosen to apply to the garden pests, in general, may be applicable to the roses. The main deal is not having to worry about fungal diseases, which allows for more attention to controlling the crawlies and browsers.
Rose Rosette Disease
There is one major concern regarding roses in general and the Knock Out roses in particular: rose rosette. This virus is transmitted by microscopic mites often associated with multiflora (invasive) roses and can infect all roses. Look for symptoms like
Excessive thorniness
Weak canes
Red rosettes at the growth tip or "witches' broom" growths along the stem
If rose rosette infection is confirmed, there is no cure.
If your plants become infected, it's best to remove the entire plant completely from the landscape. 3)https://caldwell.ces.ncsu.edu/2015/07/have-knockout-roses-then-heres-a-disease-you-should-know/
The rose rosette disease is a major concern for all rose gardens primarily in the midwest
the east but is showing up in many other states in the southeast. For detailed information and updates here's a comprehensive resource.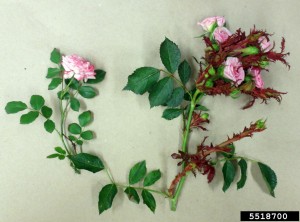 While researchers and developers look to create a disease-tolerant variety, common sense measures can be taken. For instance, avoid over planting Knock Out roses (or actually any species) in one area. It's better to lose, then replace, several infected bushes, rather than an entire hedgerow.
Knock Out Roses – A Winning Landscape Rose!
Since their introduction in 2000, there have been many additions to the Knock Out Rose Family. They can be purchased at practically every large discount store, nurseries, and home improvement centers as well as online retailers. 4)https://www.knockoutroses.com/family
Still a Beautiful Rose
With the entry of these fabulous beauties into the marketplace, the "tough rose" has allowed the average gardener an opportunity to grow, enjoy, and highlight their gardens with minimal fuss and worry.
What used to be the province of dedicated rose enthusiasts has now expanded to include a wider range of rose aficionados. Thanks to Bill Radler, a man with a vision and purpose, our little Edens can be all the more resplendent!
Rose Quotes to Enjoy
The red rose whispers of passion, And the white rose breathes of love;
O, the red rose is a falcon, And the white rose is a dove.
~ John Boyle O'Reilly, Irish-American poet, journalist, and author
You can complain because roses have thorns, or you can rejoice because thorns have roses.
~Ziggy Marley, Jamaican musician
The rose is a rose from the time it is a seed to the time it dies. Within it, at all times, it contains its whole potential. It seems to be constantly in the process of change: Yet at each state, at each moment, it is perfectly all right as it is.
~ Paulo Coelho, author
G. Coleman Alderson is an entrepreneur, land manager, investor, gardener, and author of the novel, Mountain Whispers: Days Without Sun. Coleman holds an MS from Penn State where his thesis centered on horticulture, park planning, design, and maintenance. He's a member of the Phi Kappa Phi Honor Society and a licensed building contractor for 27 years. "But nothing surpasses my 40 years of lessons from the field and garden. And in the garden, as in life, it's always interesting because those lessons never end!" Coleman Alderson
FDA Compliance
The information on this website has not been evaluated by the Food & Drug Administration or any other medical body. We do not aim to diagnose, treat, cure or prevent any illness or disease. Information is shared for educational purposes only. You must consult your doctor before acting on any content on this website, especially if you are pregnant, nursing, taking medication, or have a medical condition.
Affiliate Disclosure
GardensAll.com is a participant in the Amazon Services LLC Associates Program, an affiliate advertising program designed to provide a means for sites to earn advertising fees by advertising and linking to Amazon.com. Pages on this site may include affiliate links to Amazon and its affiliate sites on which the owner of this website will make a referral commission.
Want to submit your photos, videos and/or article content for publication? We love to share! growers@gardensall.com