Catnip is for people too, with many uses and benefits.
Everyone knows that most cats love catnip, but fewer realize that catnip is not just for cats. In fact, growing catnip is a good idea, even if you don't have cats!
Catnip, Nepeta cataria, is a delightful, soothing and medicinally beneficial herb for humans too! So if you're thinking about growing catnip—or perhaps you already are—there's more benefit than happy cats!
There's more to growing catnip than happy cats!
~GardensAll.com
Catnip is a Natural Mosquito Repellent
"Researchers report that nepetalactone, the essential oil in catnip that gives the plant its characteristic odor, is about ten times more effective at repelling mosquitoes than DEET — the compound used in most commercial insect repellents."1)https://www.sciencedaily.com/releases/2001/08/010828075659.htm
Catnip is ten times more effective at repelling mosquitoes than DEET!
Growing Catnip
A recent article here on Gardens All about having a pet-friendly garden generated interest in how to grow catnip, and what it might be used for besides making our cats act like they're kittens again. Well, it turns out that growing catnip is very easy, and the benefits of this fragrant herb make it a great addition to your garden.
Catnip (Nepeta cataria) is in the mint family. Like its minty relatives, you can expect catnip to be an herbaceous perennial with square shaped stems and blossoms that are not showy. The leaves are gray-green in color and can have a slight velvety feel. Catnip will happily grow and spread in a variety of soil conditions, and may even grow in areas that other garden plants find difficult to adapt to.
Tips for Growing Catnip
First, if you don't want your—or your neighbor's—cats to tear up your catnip, you'll need to keep a portion of it out of their reach, such as via a hanging pot like the one pictured here.
In this photo two cat thwarting measures are implemented: sticks and height. The height makes it unlikely the cat will be able to jump up and the sticks create a barrier, should he try.
The sticks can also help keep the cat from laying on standing pots, so if you don't want to hang it, you could try that first.
Catnip Origin
Catnip originates from Europe and Asia and was brought the North America by European settlers to use as a food and medicine source. Catnip is such a hardy, resilient plant that it readily naturalized here, and can still be found growing wild in certain regions of the U.S. It's also widely cultivated today, primarily for use in cat treats and toys.
Here's the basic scoop on growing catnip:
How to Grow Catnip:
Propagation: seeds, stem cuttings, root ball division
Growing Media: soil, containers, hydroponics
USDA Hardiness: perennial in zones 3-9
Germination: 7-10 days from seed
Spacing: Plant 18 inches apart
Height: about 2-4 feet
Width: about 2 feet, spreading habit
Soil: tolerant of many soil types, well draining preferred
Light Needs: high, full sun to partial sun
Water: Keep well watered until established, then weekly watering should suffice
Pests/Diseases: Whiteflies and spider mites may bother it, but not much else.
You can start your catnip indoors about a month before last frost, and then transplant them outside. Alternatively, you can direct sow the seeds into the soil in early spring or late fall. Cover lightly with soil. Keep the soil watered, but not soggy. When the sprouts reach about 5 inches in height, thin them to a spacing of 18 inches.
Need pollinators in your garden?


Catnip attracts bees!
Catnip blooms from midsummer to early fall. The fragrant flowers are usually white and not very showy. They will, however, attract pollinating bees to the garden. This plant self-sows readily, if not aggressively, so deadhead often if you don't want catnip plants popping up all over your garden next season. Don't toss the blooms! Dry them instead. I'll get to what you can do with them in just a bit.
First, some notes on landscaping and companion planting.


Catnip: Companion Planting and Landscaping
As a landscaping plant, catnip's hoary, gray green foliage and dense, clumping growth habit make it a grounding plant in the garden, backdropping well with plants that have showier blooms. It does well in rock gardens, and in cottage gardens at the mid-range tier, due to medium height. Catnip is also a nice plant to have near walkways, where people can enjoy its fragrant leaves and blooms. Deer do not usually eat it.
As a companion plant, you can grow it as a border to help deter a lot of vegetable garden pests, including flea beetles, aphids, Japanese beetles, squash bugs, mice and rats. Many of your vegetables such as tomatoes, squash, beets, potatoes and brassicas like kale or collards, will all appreciate being near catnip.
Catnip Deters Garden Pests
Flea beetles
Aphids
Japanese beetles
Squash bugs
Mice
Rats
Caution: Keep in mind that catnip likes to spread, and it's attractive to cats, especially if you live in an area with a lot of them.
Catnip will also attract pollinating bees into the garden.
If you have cats of your own, you may need to canopy your catnip with netting, chicken wire, or place sticks at close intervals through the catnip to keep them from flattening it.
If you're just starting out growing catnip, you might try the high hanging baskets. Your cat will be healthier and happier with little snips now and then versus having constant access for a sensory overload!
Each cat is different, so if you want to experiment with giving your cat access, you can start with a potted plant and if that works (i.e., she doesn't go bonkers), you can create a designated "cat garden" or "cat corner", where your cat can roll in catnip to its heart's content. Chances are if she has ready access, she will settle into periodic visits versus an all-the-time binge.
For information on the differences between catmint and catnip, check out this short article.
Harvesting & Storing Your Catnip
Like most herbaceous plants, you can harvest clippings from catnip as needed to control its growth. Pinching off the taller stems will encourage the plant to spread. Once it does, you may find yourself clipping it just to keep its spread under control! Pruning your catnip back hard just before winter sets in encourages vigorous regrowth in the spring.
The aerial parts of catnip (leaves and flowering tops) are used medicinally. Hang them to dry or use a good quality food dryer, and store in a cool, dark place.
Catnip leaves and flowers are used medicinally.
Catnip: Food and Medicine
Catnip is a popular herb in French kitchen gardens, where it gets added to soups and stews as a flavoring herb. You can also enjoy it as a caffeine free, antioxidant-rich herbal tea.
It has been used medicinally in Europe for over 1,000 years, primarily for its powerful nervine properties. What's more, catnip is generally safe to give to very young children.
Opposite to its energizing effect on many cats, catnip has a calming and soothing effect on humans.
Medicinal Benefits of Catnip:
Stress Relief

Anti-anxiety

Nerve-induced Headaches

Restlessness or insomnia, especially when due to anxious thoughts

Hyperactivity

Gas and upset stomach
Are you seeing the trend here? Catnip calms us. It helps to soothe our anxious thoughts and smooth over the symptoms that stress can bring.
Catnip calms us.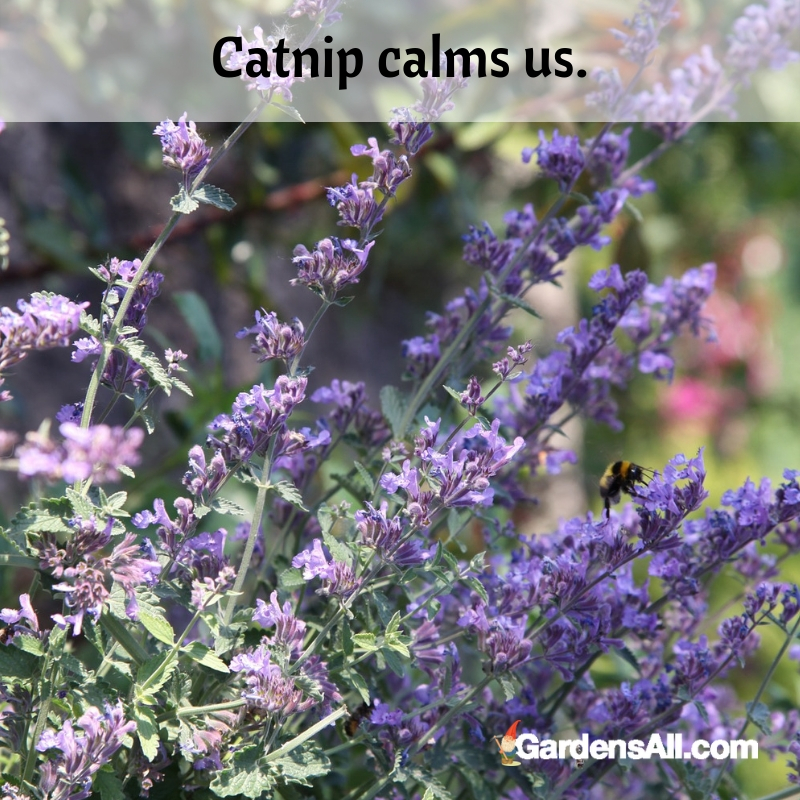 Catnip is also beneficial for:
Fever
Cold symptoms
Coughs
Nausea
Diarrhea
Colic
and more
Catnip soothes anxious thoughts and smooths symptoms of stress.
Disclaimer: The information in this article is not intended to diagnose or treat illness, or be taken as medical advice. We are sharing common knowledge on herbs and plants that may be beneficial. Always do your research before using any herbal remedy to ensure there are no allergy risks or cross-indications with any prescription medications that you are taking.
Catnip Remedies & Recipes
The easiest way to use catnip as a remedy is in tea form.
Catnip Tea Recipe:
1 Tbsp dried herb

Hot water

Steep 5-10 minutes
This will produce a tasty tea with all of the benefits that catnip can offer. If using fresh herb, double the amount. Sweeten with honey if desired. For medicinal benefit, we use Manuka honey.
Calm Children Before Bedtime
If bedtime is dread-time at your house, you can begin calming restless children with a calming brew right after dinner. Make it a small cup, so it won't create bathroom issues. A nightly ritual that includes an herbal tea of catnip with a little chamomile or skullcap and a bedtime story is a wonderful and soothing tradition to create for both parents and children.
Homemade Sleepy Tea:
Or you can get a pre-made version such as this Celestial Seasonings Sleepy Time Tea Sampler from Amazon.
Before sitting down for dinner, steep herbs in hot water, covered, during dinner. Add honey and serve as an after dinner "dessert" brew… make it a special "tea time" that you both enjoy as you clean up the dishes together.
Anti-Inflammatory Herbal Bath Soak:
Toss bag into tub while water is filling
You can also add Epsom salts, lavender or other favorite herb for a relaxing, anti-inflammatory herbal bath soak that's beneficial and soothing for swollen joints, or fussy babies.
For Sweet Dreams:
Dream Pillows
Dream pillows are for those who want to enhance or remember their dreams. To create a blend that encourages dreaming, blend any of the following organic herbs:
Catnip: Relaxing, helps bring deep sleep.
Chamomile: Calming, relaxing, and said to keep bad dreams away.
Cloves: Brings warmth and an exotic feeling to dreams, add only 2-4 per pillow.
Hops: Relaxing and brings peacefulness.
Lavender: Soothing, relaxing and eases headaches.
Lemon Verbena: Uplifting, used to add "lightness" to dream blends.
Mugwort: Greatly enhances lucid dreaming and helps with remembering of dreams.
Peppermint or Spearmint: Enhances clarity and vividness in dreams.
Rose petals: Brings warmth and love, may be used to evoke romantic dreams.
Rosemary: Traditionally used to bring deep sleep and keep away bad dreams.



Catnip Essential Oil – Mosquito Repellent
Catnip essential oil has been the focus of numerous scientific studies because of its apparent ability to repel mosquitoes, stable flies, and other biting insects. Some of these studies have shown catnip to be twice as powerful as DEET and to potentially last longer as well. Scientists hope to harness the organic compounds in catnip, called nepetalactone, to make effective repellents for humans and livestock.
While science continues to study catnip's benefits as a deterrent for pest insects, natural mosquito repellents containing catnip oil are available. These often use a combination of essential oils that have a demonstrated deterrent effect on mosquitoes, flies, ticks, and other biting bugs. A simple natural bug repellent spray recipe might look like this.
Simple Bug Repellent Spray Recipe
Pour about 2 oz of distilled water into the bottle. Add 15 drops each of catnip oil, lemongrass oil, and lemon eucalyptus oil. Fill the bottle with about 2oz of witch hazel. Shake before using. Reapply every 2-4 hours as needed, and after swimming. Product should remain fresh for a few months without needing refrigeration. Remember to test for reaction on a small patch of skin before using this spray on large areas of the body. Avoid getting spray into the eye area and mucus membranes.
Tinctures, Honeys and Syrups
Tinctures, extracts, herbal honeys and syrups are also good ways to use catnip medicinally. Soothing herbal honeys and syrups are excellent for handling colds. Tinctures and extracts are great for adults and when tea isn't convenient. An herbal extract is a good choice, for example, when bed-wetting issues—or frequent night voyages to the bathroom—make a nightly tea inconvenient. Most tinctures use alcohol to extract the herb's medicinal components. The amount of alcohol in a typical dose isn't significant enough to be a health hazard in children; however, you can avoid alcohol altogether by making your own extract using vegetable glycerine. This kind of extract is also called a glycerite.
Kid Friendly Catnip Extract
Add the catnip to the container, and cover with glycerine. Don't get too fussy about measurements. Simply make sure that the glycerine fully covers the herb. Cover with an airtight lid, and set on the kitchen counter. Let sit for 6 weeks, shaking occasionally to ensure that the herb stays fully submerged. Strain off the herb. Use by the dropperful. Store your glycerite in a cool, dry, preferably dark place. It should keep for about a year. Discard immediately if you suspect bacterial growth.
Contributions from the Community
FYI:: It spreads so plant it in a container or it'll take over!
~Kathy Platt Yost
Nicki confirms this as well:
It spreads here like wildfire! I can't keep it out of my garden. I literally dig a ton of this stuff out of my garden every year. It is unstoppable.
~Nicki Sue Hudspeth
I've grown it in the past, but it became a little too popular with the neighborhood cats. Gnawed right down to the ground 😂 It's not ALL bad though! My neighborhood "friends" are great at keeping river-rats away, so it evens out.
~Erin McGoldrick
Catnip? Did you say catnip? A perennial favorite around here.
~Jane Seely
Catnip Conclusion
No matter your age, catnip is a beneficial herb to have nearby.
CATNIP…
Calms
SootheS
Helps fight infection
Helps repel mosquitoes
Is safe for humans from nearly the cradle to the grave
It is such a friend to us both as a garden beauty and as medicine. Don't miss out on adding catnip to your garden… in a pot/s!
☀️Let's keep growing great gardens!🌱
Jennifer is a clinical herbalist and health coach, specializing in autoimmune diseases like rheumatiod arthritis. Her interest in plant medicine led Jennifer to spend years studying herbology, physiology, and nutrition. She works one-on-one with her clients via her herbalist and health coaching business, Prairie Hawk Botanica. Jennifer lives on a homestead in rural Texas with her husband, 2 children, and various animals. In her spare time she loves to be in her large herb and vegetable garden. Sharing herb knowledge and her love of natural healing with others is her calling.
FDA Compliance
The information on this website has not been evaluated by the Food & Drug Administration or any other medical body. We do not aim to diagnose, treat, cure or prevent any illness or disease. Information is shared for educational purposes only. You must consult your doctor before acting on any content on this website, especially if you are pregnant, nursing, taking medication, or have a medical condition.
Affiliate Disclosure
GardensAll.com is a participant in the Amazon Services LLC Associates Program, an affiliate advertising program designed to provide a means for sites to earn advertising fees by advertising and linking to Amazon.com. Pages on this site may include affiliate links to Amazon and its affiliate sites on which the owner of this website will make a referral commission.
Want to submit your photos, videos and/or article content for publication? We love to share! growers@gardensall.com